HOW CAN I LEARN

MORE ABOUT TREATMENT WITH KOSELUGO?
The following resources and videos can help provide you and your family with more information about Koselugo and about NF1 plexiform neurofibromas. As you review the materials, write down your questions and share them with your doctor at your child's next visit.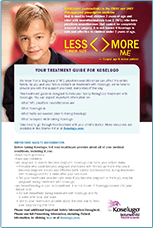 Caregiver Brochure
Download this brochure to learn more about neurofibromatosis type 1 (NF1) plexiform neurofibromas (PN) and treatment with Koselugo.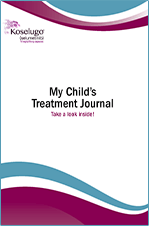 Treatment Journey Tracker
Download this booklet to record your child's treatment, and write down notes about their treatment so you can discuss them with your child's doctor at their next appointment.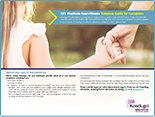 Symptom Guide for Caregivers
Learn about signs of symptomatic plexiform neurofibromas (PN) to look out for in your child, so you can talk to your child's doctor if you notice anything similar.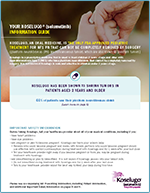 Koselugo Information Guide
Download this guide to learn more about NF1 PN and Koselugo; talk to your doctor to see if Koselugo is right for your child.
Meet Cooper and his family
Cooper is an 8-year-old boy who is living with NF1 plexiform neurofibromas. Listen to his family share their experiences in an early access program and learn how they currently manage his treatment with Koselugo.
WHAT ARE SOME

ADVOCACY ORGANIZATIONS

FOR PATIENTS WITH

NF1 PN?
The following organizations can help you connect with the NF1 community and learn valuable information about the disease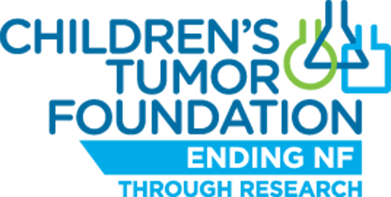 The mission of the Children's Tumor Foundation is to drive research, expand knowledge, and advance care of the NF community.
Visit the Neurofibromatosis Network website to discover news about treatment and their work toward a neurofibromatosis cure. They provide outreach through education and awareness, while offering hope and support to those affected by NF.


The Littlest Tumor Foundation is focused on increasing the understanding of neurofibromatosis (NF), empowering affected families, and advancing research of preventative therapies.
The resources listed above are independent, nonprofit patient service organizations. Their listing in this website does not imply endorsement.